School of Nursing and Rehabilitation Sciences
School of Nursing and Rehabilitation Sciences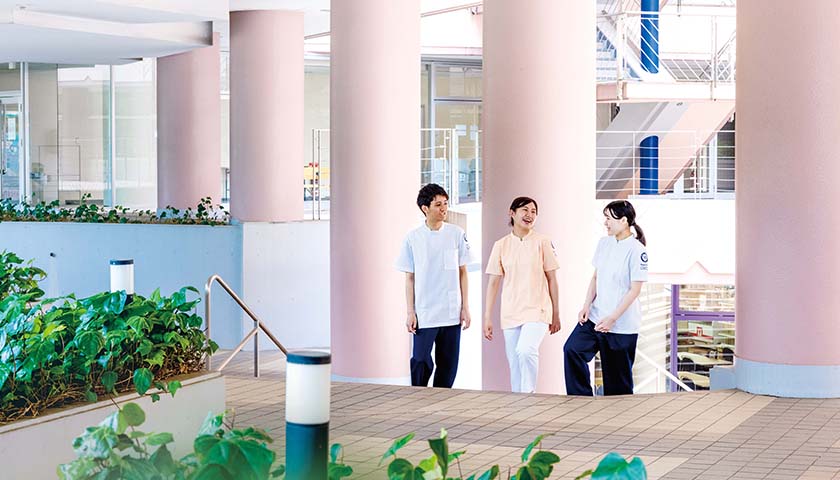 Producing specialists in the realm of medical care, health preservation, and welfare.
The School of Nursing and Rehabilitation Sciences has 3 departments (nursing, physical therapy and occupational therapy), which aim toward the education of superb personnel rich in humanity and who can be active in the fields of health promotion, medical care and welfare. To instruct the theory and practice of team medical care, which is becoming increasingly more important, the curriculum consists of the 'sciences of humans', 'sciences of health', and 'sciences of subspecialty ', and has already shown high achievements.
Department of Nursing
The theme of the department of nursing is maintenance and promotion of health and recovery from disorders so that one can be born, live and die safely and in peace. Our goal is to nurture basic abilities so that the students learn the theory and practice of supporting people's daily lives and also so that the graduates contribute to the development of nursing science through medical care, education and research. Also, our goal is to cultivate self-reliance, independence and originality, so that the graduates can handle people's health-related needs, which is becoming more and more varied with the development of medicine and medical care, the lower birthrate and society aging, various life styles, and internationalization, within the systematic collaboration of health service, medical care and welfare.
Department of Physical Therapy
At this comprehensive medical university, with excellent facilities and a strong environment for education, medical care and research, the Department of Physical Therapy has experts who have contributed to the development of the fields of structure and function, rehabilitation medicine, basic kinesiology, physical function evaluation, orthopedic treatment, neurological treatment, respiratory and circulatory treatment, and community physical therapy. Particular emphasis is placed on undergraduate education, aiming with close collaboration with clinicians to cultivate health care providers who can not only handle various needs with advanced knowledge and technique, but who also has rich humanity and the personality capable of collaborating within a medical team, along with high problem-solving ability, and the capability of delivering the best medical treatment.
Department of Occupational Therapy
The Department of Occupational Therapy has a professional understanding towards patients and people with handicaps, and has set up a curriculum aiming to nurture occupational therapists who can practice team medical care smoothly with other health care practitioners The 'sciences of occupational therapy' education program nurtures theory and ability to apply and practice wide-range rehabilitation, as a specialty, based on the 'sciences of humans' and 'sciences of health'. In particular, regarding laboratory and clinical practice, the ideal learning environment in this comprehensive medical university includes an effective one-on-one guidance, well-equipped facilities in the campus, and a wide range of teaching hospitals and institutions.